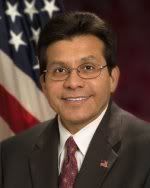 With Democrats eager to use their new majority for oversight can the Bush Administration safeguard the criminal enterprise known as the Republican Party? Well it turns out a little known provision in the USA Patriot Act reauthorization last year empowers Attorney General Alberto Gonzales to appoint replacements without Senate confirmation. Yesterday,
California Senator Diane Feinstein complained
,
"The Bush administration is pushing out U.S. attorneys from across the country under the cloak of secrecy and then appointing indefinite replacements."
Eleven U.S. Attorneys have resigned in the past year. Among those departing is Carol Lam, U.S. Attorney for the Southern District of California. California's Southern District covers San Diego and Imperial counties. Lam was appointed in 2002 and leaving office on February 15th. Her priorities the past four years were prosecuting political corruption and health care fraud. It was Lam's office that managed the government's case against Republican Congressman Randall "Duke" Cunningham who pleaded guilty to taking $2.4 million in bribes.
Attorney General Gonzales denies politics has played any role with the turnover at the Justice Department and insisted the Bush Administration,
"in no way politicize these decisions."



Simply put, I don't believe him. I'm also irked at Democrats. I realize preventing the reauthorization of the Patriot Act last year was difficult but why couldn't Democrats at least raise some hell about this provision?