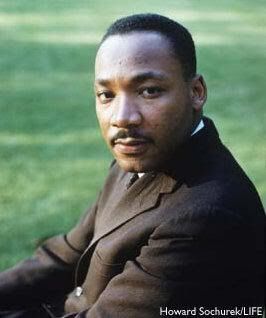 Martin Luther King Jr. was a unique soul who pursued justice absent of vengeance. As we honor his birthday let's reflect and absorb the wisdom of his poignant words:
Strength to Love, 1963
"Nothing in all the world is more dangerous than sincere ignorance and conscientious stupidity."
Strength to Love, 1963
"Our scientific power has outrun our spiritual power. We have guided missiles and misguided men."
Strength to Love, 1963
"The ultimate measure of a man is not where he stands in moments of comfort and convenience, but where he stands at times of challenge and controversy."

Letter from Birmingham Jail, April 16, 1963
"Injustice anywhere is a threat to justice everywhere."
Speech at Civil Rights March on Washington, August 28, 1963
"Now, I say to you today my friends, even though we face the difficulties of today and tomorrow, I still have a dream. It is a dream deeply rooted in the American dream. I have a dream that one day this nation will rise up and live out the true meaning of its creed: - 'We hold these truths to be self-evident, that all men are created equal.' "
Speech at Civil Rights March on Washington, August 28, 1963
"I have a dream that one day on the red hills of Georgia the sons of former slaves and the sons of former slave owners will be able to sit down together at the table of brotherhood. I have a dream that one day even the state of Mississippi, a state sweltering with the heat of injustice, sweltering with the heat of oppression, will be transformed into an oasis of freedom and justice. I have a dream that my four little children will one day live in a nation where they will not be judged by the color of their skin but by the content of their character.
I have a dream today."
Speech in Detroit, June 23, 1963
"I submit to you that if a man hasn't discovered something he will die for, he isn't fit to live."

Accepting Nobel Peace Prize, Dec. 10, 1964
"I believe that unarmed truth and unconditional love will have the final word in reality. That is why right, temporarily defeated, is stronger than evil triumphant."

December 11, 1964
"Nonviolence is the answer to the crucial political and moral questions of our time; the need for mankind to overcome oppression and violence without resorting to oppression and violence. Mankind must evolve for all human conflict a method which rejects revenge, aggression, and retaliation. The foundation of such a method is love."

BEYOND VIETNAM, April 4, 1967, Riverside Church, NYC
"Perhaps the more tragic recognition of reality took place when it became clear to me that the war was doing far more than devastating the hopes of the poor at home. It was sending their sons and their brothers and their husbands to fight and to die in extraordinarily high proportions relative to the rest of the population. We were taking the black young men who had been crippled by our society and sending them 8,000 miles away to guarantee liberties in Southeast Asia which they had not found in Southwest Georgia and East Harlem. And so we have been repeatedly faced with the cruel irony of watching Negro and white boys on TV screens as they kill and die together for a nation that has been unable to seat them together in the same schools. And so we watch them in brutal solidarity burning the huts of a poor village but we realize that they would hardly live on the same block in Chicago. I could not be silent in the face of such cruel manipulation of the poor."
A CHRISTMAS SERMON" December24, 1967

"And the leaders of the world today talk eloquently about peace. Every time we drop our bombs in North Vietnam, President Johnson talks eloquently about peace. What is the problem? They are talking about peace as a distant goal, as an end we seek, but one day we must come to see that peace is not merely a distant goal we seek, but that it is a means by which we arrive at that goal. We must pursue peaceful ends through peaceful means. All of this is saying that, in the final analysis, means and ends must cohere because the end is preexistent in the means, and ultimately destructive means cannot bring about constructive ends."

CONSCIENCE AND THE VIETNAM WAR" in The Trumpet of Conscience (1968)
"We must move past indecision to action. We must find new ways to speak for peace in Vietnam and for justice throughout the developing world, a world that borders on our doors. If we do not act, we shall surely be dragged down the long, dark, and shameful corridors of time reserved for those who possess power without compassion, might without morality, and strength without sight."

Speech in Memphis, April 3, 1968, the day before King was assassinated
"And I've looked over, and I've seen the promised land. I may not get there with you, but I want you to know tonight that we as a people will get to the promised land. So I'm happy tonight. I'm not worried about anything. I'm not fearing any man."