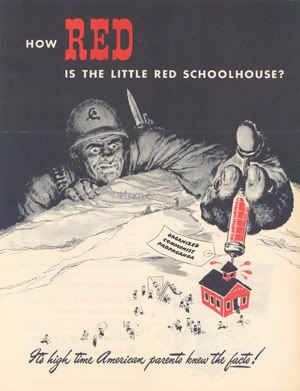 I am an alumnus of Sarah Lawrence College. Over the weekend, I read a diary posted by "rba" at
epluribus Media
about a statement of "academic freedom" published by Sarah Lawrence's Board of Trustees in 1938. That statement became an important part of history during the McCarthy Era.
In November 1951, Louis Budenz published an article in
American Legion Magazine
accusing SLC, along with other colleges and universities of employing "subversive" and "communist" faculty members. Subsequent to this insidious publication, the newly formed Americanism Committee of the Westchester County American Legion accussed Sarah Lawrence faculty members of being communists.
The Legion regularly presented reports from the Americanism Committee targeting individual faculty members at Sarah Lawrence who they considered communists. Their first target was Joseph Barnes. Ultimately, the Legion targeted almost a dozen faculty members at Sarah Lawrence. I'm proud to say the leadership of Sarah Lawrence reaffirmed their 1938 statement of academic freedom and refused to be bullied.
Click Here
to read about this history on Sarah Lawrence's website.