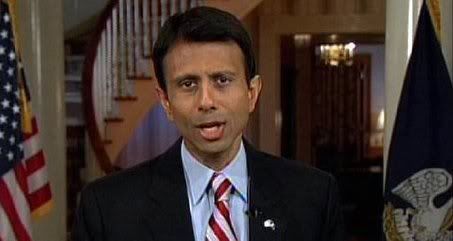 Delivering the response to a president's speech in front of a joint session of congress, is arguably the toughest assignment in politics. Few garner enthusiastic reviews after a president benefits from the symbolic majesty of such a moment. Yes, Virginia Senator James Webb was terrific a couple years ago. I can also recall former Democratic House Speaker Jim Wright, delivering an effective response following Ronald Reagan's 1987 State of the Union speech.
Nonetheless, Jindal's performance last night was the most pitiful response I have seen since former Senate Republican leader Bob Dole in 1996. At the time of Dole's response, I was quite critical of Bill Clinton from the left. Nonetheless, it was apparent that no one in the Republican Party held a candle to him.
Governor Bobby Jindal's performance last night and even John McCain's petulance at the "Fiscal Responsibility Summit" the day before, illustrates that the stature gap between Republicans and President Obama is widening. How will this impact substance I wonder? It still requires sixty votes to move legislation in the Senate. When will President Obama opt to stare the Republicans down and dare them to filibuster? And would enough Republican's blink when confronted with Obama's stature?
I'm convinced that President Obama has an opportunity to use his political capital and bargain aggressively for a far more activist agenda than he has to this point. Obama's speeches are wonderful. I just hope he seizes the moment and negotiates more effectively than he did with the stimulus bill. Even as the stature gap between Obama and the insipid opposition party widens, liberals must remain vigilant on behalf of peace, prosperity and social justice. As much as I respect President Obama, substance matters more than serving a cult of personality.