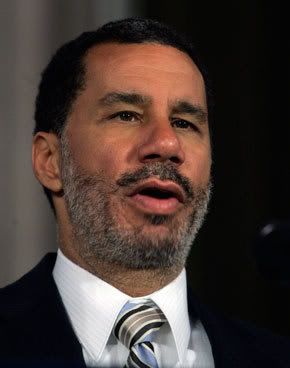 New York as well as many other states are in the midst of a fiscal crisis. Liberal New York bloggers like me have urged Governor Paterson to put forward a budget that shares the pain fairly. Time is short because the deficit needs to be reduced by April 1st of 2009. New York's projected deficit is $15 billion this year and $36 billion over the next two years.
To his credit, Governor Paterson is soliciting the opinions of the progressive netroots community over at
Daily Kos
as well as
The Albany Project
. If you're a New York State resident, I urge you to set up you're own account with
The Albany Project
. It's a terrific opportunity to review the ideas and concerns of other progressive New Yorkers as well as contribute to the conversation. Also,
The Albany Project
is an outstanding resource for information and activism to shape the debate in Albany in a more reformist minded and progressive direction.
It is also gratifying to know that Paterson respects our community and is not merely operating under the traditional "three men in a room" formula. The netroots through
The Albany Project
as well as the New York
Workers Family Party
have helped elect many progressive minded state legislators the previous two election cycles. Obviously we have earned clout as Governor Paterson is using the Internet to solicit our views.
I've been critical of Paterson regarding the budget and his flirtation with Caroline Kennedy as Hillary Clinton's replacement. If he is willing to engage however, as good citizens we should respond with respect and candor. We don't yet know how much federal aid New York will receive from the incoming Obama administration. In the meantime, tough decisions need to be made as the budget is vetted through the legislature and Governor Paterson is asking for ideas. So don't just sit on the sidelines and complain. Pitch in and help!