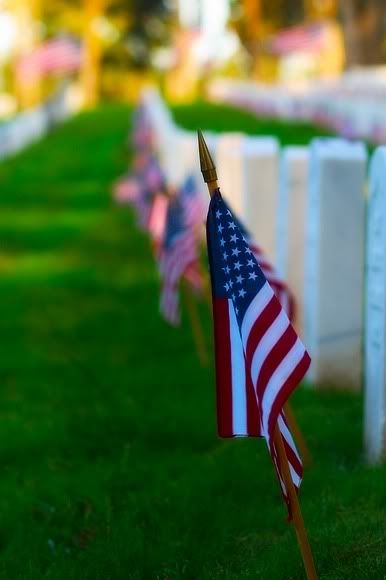 Tomorrow is simply a holiday for many Americans to enjoy the beach and a day off from work. It's important to remember that Memorial Day is a somber holiday and merits a pause for reflection among all of us.
It's also important to know the true history and origins of this sacred holiday, that honors those who made the ultimate sacrifice for our freedom.
David Blight
, a history professor as well as the author of
Race and Reunion: The Civil War in American Memory
, wrote the following about America's first Memorial Day:
"And with great organization, on May 1, 1865, the black folk of Charleston, in cooperation with white missionaries, teachers, and Union troops, conducted an extraordinary parade of approximately ten thousand people. It began with three thousand black school children (now enrolled in freedmen's schools) marching around the Planters' Race Course with armloads of roses and singing "John Brown's Body." Then followed the black women of Charleston, and then the men. They were in turn followed by members of Union regiments and various white abolitionists such as James Redpath. The crowd gathered in the graveyard; five black preachers read from Scripture, and a black children's choir sang 'America,' 'We Rally Around the Flag,' the 'Star-spangled Banner,' and several spirituals. Then the solemn occasion broke up into an afternoon of speeches, picnics, and drilling troops on the infield of the old planters' horseracing track.

This was the first Memorial Day. Black Charlestonians had given birth to an American tradition. By their labor, their words, their songs, and their solemn parade of roses and lilacs and marching feet on their former masters' race course, they had created the Independence Day of the Second American Revolution.

To this day hardly anyone in Charleston, or elsewhere, even remembers this story. Quite remarkably, it all but vanished from memory. But in spite of all the other towns in America that claim to be the site of the first Memorial Day (all claiming spring, 1866), African Americans and Charleston deserve pride of place. Why not imagine a new rebirth of the American nation with this scene?"

In the spirit of unity and renewal from that first Memorial Day, let us properly acknowledge those who gave their lives in wars past and present. Whether one agrees with wars in Iraq or Afghanistan as well as other conflicts such as Vietnam, the memory of those who have served and died deserves the highest honor and prestige we as a people can convey. Where would any of us be today for example if not for the sacrifices made by the "greatest generation" in World War Two?
Yet since that first Memorial Day described by Blight, we've overlooked those who have made the ultimate sacrifice. So while you're enjoying a hot dog or perhaps attending a baseball game, please remember that these soldiers are not disposable units. A culture that casually disregards their sacrifice has resulted in a military that can't provide body armor for soldiers in the field and the scandal that occurred at Walter Reed Army Medical Center. Perhaps the best way we can honor our dead is to care for those who wore the uniform and survived. Anything less is a stain on our national character.