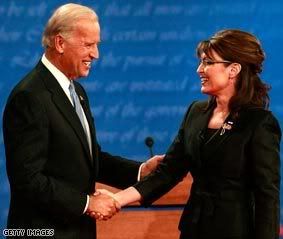 Sarah Palin comfortably exceeded the soft bigotry of her low expectations last night. The rigid debate format worked well for Palin. Unlike her recent interviews with Charles Gibson and Katie Couric, Palin was able to feint and dodge effectively with her personality and folksy colloquialisms. One on one interviews do not enable subjects to run out the clock or distract from their lack of knowledge with honed talking points. Last night however, Palin was able to stay on message and reassure the Republican's Party conservative base.
Senator Joe Biden delivered a solid and graciously pugnacious performance but was overshadowed because of Palin's low expectations. Mostly Biden diligently draped the Bush Administration's record around John McCain's neck.
Palin valiantly attempted to re-focus the debate on the future with her "say it ain't so Joe" sound bite critique of Biden's constant refrain about the Bush years. She delivered her sound bite well and McCain will no doubt try to build on the refrain about looking forward instead of backwards. However, it's doubtful McCain-Palin will be able to escape blame for the Bush Administration's as well as the entire Republican Party's mismanagement since 2001.
To the extent anyone cares about substance I was struck by two things. First, the Biden-Palin exchange about gay rights. Both agreed they didn't support gay marriage however Palin seemed to concede she didn't want to deny homosexual couples access to hospital visitation rights as well as the insurance benefits enjoyed by heterosexual couples. Yet when moderator Gwen Ifill attempted to press Palin that she agreed with Joe Biden about these sorts of civil liberties, Palin instead retorted that she agreed with Biden about not re-defining traditional marriage. In effect, Palin ignored the question and Ifill opted not to follow up and moved on.
The other issue of substance that struck me was the cognitive dissonance about Afghanistan. Biden quoted America's commanding general in Afghanistan in noting that an Iraqi type surge wasn't likely to work. Obviously, Biden wanted to illustrate the Bush Administration's failures in Afghanistan. Yet Biden also simultaneously suggested that we needed more troops in Afghanistan. That would seem to be an irreconcilable contradiction.
Palin of course also had her own cognitive dissonance in that she simultaneously supported more oversight while promoting the traditional Republican meme of getting government off the backs of the people.
Overall, the trajectory of this presidential election remained unchanged. John McCain has conceded Michigan which means that among the remaining battleground states he will have to draw the equivalent of an inside straight to win.
Palin, has stopped the bleeding on her Vice Presidential candidacy and conservatives are no doubt relieved. She can now be permitted to campaign without adult supervision in the conservative districts of swing states to ensure the GOP's base turns out.
However, last night's debate will quickly be old news. Once again attempted legislation for the Wall Street bailout will dominate and the focus will turn to Obama-McCain for October 7th's debate and stay there until November 4th. Hence, this remains Barack Obama's election to lose.
As for Sarah Palin, let's just say that in 2012 both Mike Huckabee and Mitt Romney will have stiff competition for the support of evangelical caucus voters in Iowa. So while Palin may not be a heartbeat away from the presidency after November 4th, I would not be surprised if the same ignorant country that put George W. Bush in the White House eventually makes her husband America's "First Dude."