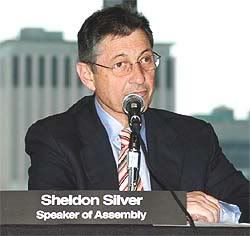 The
New York Times
today reported about the backlash New York state legislators are experiencing for their support of new Comptroller, Thomas DiNapoli. This is largely a new experience for most of these people who are unaccustomed to true democracy in action. Constituents are making their displeasure felt in telephone calls and E-Mails.
I must admit, the intensity from the public has surprised me. Recently, I wrote a post entitled,
"Eliot Spitzer Takes On New York's Nomenklatura"
but didn't believe he would receive this much support. Instead, I assumed the polls would largely support Spitzer even as the public remained loyal to their incumbent legislators.
So, what does this mean for the future? Will Spitzer's tactics result in the legislature endorsing his new budget proposal and reform agenda? Critics are portraying Spitzer as a bully with a temper. I don't know if Spitzer's tactics will succeed but he shouldn't be underestimated. I suspect the threat of Spitzer's populist hammer will be followed up with soothing enticements. Fear and reward are an effective combination in life and politics. Sort of like letting the children know they can't watch television if they misbehave but there is plenty of ice cream waiting for them in the freezer.