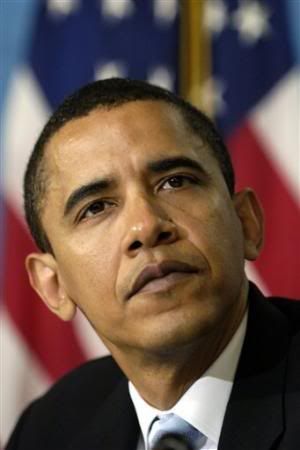 Truthfully, I'm not sure how I feel about Barack Obama. His charisma, intelligence and life story definitely intrigue me. I appreciated his firm unwavering opposition to the Iraq war from the onset. Too many Democrats did not share his resoluteness. But there are moments when he sounds too willing to castigate secularists for being "hostile" to religion and ready to compromise core progressive values. It also remains to be seen whether Obama can withstand the intense scrutiny and gold fish bowl of presidential politics. So, while Obama intrigues me, I'm not ready to jump on the bandwagon just yet. But for whatever its worth, I thought I'd have some fun and try writing a hypothetical inaugural speech in his voice.


Vice President Richardson, Madam Speaker, Mr. Chief Justice, Vice President Cheney, President Bush, esteemed clergy and fellow citizens – Today we honor the majesty of our democracy. Two hundred and twenty years ago our first president, George Washington, took the same oath I have today. America was young and vulnerable. Our nation surrounded by enemies and divided. Yet we survived turbulent years of war and intense debate about our system of government.
Our first president was a humble man who believed our country partly owed its survival to divine providence. He told a joint session of Congress at that first inaugural, "No people can be bound to acknowledge and adore the Invisible Hand which conducts the affairs of men more than those of the United States."
As I reflect upon our country's two centuries of struggles and accomplishments I must also humbly share George Washington's gratitude to the Almighty for America's survival and prosperity. Civil War, the Depression, two world wars, the Cold War, the civil rights struggle and an influx of new Americans from around the globe. Through it all we remained strong, just and united.
Our continued survival and prosperity is contingent upon nurturing a community culture at home and abroad. All of God's children are entitled to dignity and respect regardless of their race, nationality, class, gender or religion. All of God's children share responsibility as stewards of this planet's well being. As the world's strongest power we're obligated to embrace the better angels of our nature for the sake of all humanity. Now in our third century America is
still young at heart but mature in soul.
Our new generation of leadership is also young at heart and mature in soul. The shouting and recriminations of the 1960s is not our anthem. The petulance and pettiness of hawk vs. dove, black vs. white, hippie vs. the establishment, Great Society vs. law and order is not the drumbeat we march too. Those struggles were important. A forty-year era of great debates helped make our country more just. Those arguments belong in the past. My friends, the culture war is over.
Our generation believes in consensus and innovation. Everyone has a stake, everyone has responsibility, everyone has something to contribute and from time to time everyone has to give someone a helping hand. Today's successful leaders in business, government and academia don't rule by decree or demonizing our adversaries. Our generation gets things done by accountability and coordination. Leaders must inspire or fail.
I want our friends and allies to know that my Administration is both able to lead and willing to listen. Global warming, terrorism, famine, genocide and disease are challenges to address together. America can't impose stability, democracy or order on anyone. Nor can we protect the world by ourselves. I know that. We know that.
The community of nations also can't police the world, save our environment and bring about peace without us. The world remains dangerous with ancient tribal hatreds, terrorists and the proliferation of horrible weapons. In this world where evil still lurks and natural resources are diminished we either cooperate or die. I extend the hand of cooperation to our allies. Let us go forward together and make the 21st century one of universal peace, prosperity and justice.
To our enemies I extend the olive branch of peace. America is strong enough to negotiate. We truly prefer peace to war and take no pleasure in shedding anyone's blood. But don't mistake the hand of peace for weakness. Our resolve remains firm, as does our might. Tread on our allies or us and we stand ready to defend freedom in battle.
I also extend the hand of friendship to the loyal opposition with a special acknowledgement to Senator John McCain. Senator McCain waged a spirited campaign honorably and with principle. I admire his patriotism, his distinguished service to our country and his example of citizenship.
We all have a role to play in our national conversation. Principled debate is welcome and needed to keep all of us honest. Politics must be a rigorous competition for the best ideas. We have great challenges ahead. Bridging the gap between rich and poor, expanding access to health care, ensuring that our children receive a first class education. Let us debate and hash out our differences honorably and with civility. There's no need to question the other side's motives. I welcome ideas from everyone.
Ultimately, the health of our national community doesn't depend on politicians in Washington. Whether we succeed or fail is about everyone embracing the greater good of our nation. We're all connected and we all have important roles.
To my fellow citizens I ask patience and sacrifice. We're living in a new world. The global economy does not bend to our will. Our competitiveness and prosperity requires choices and priorities. We're going to have to change our consumption habits if we want to save our planet from global warming. We owe this to the world as global citizens and it's our moral responsibility to lead by example. It's also a matter of national security. All of us must contribute to the national community by conserving energy if we want to free ourselves from the tyranny of foreign oil.
America does have enemies. I don't expect or want citizens to live in perpetual fear. That only emboldens our enemies. But I will ask for broader sacrifice. Too many citizens from poor communities absorbed the burden of defending our freedom in recent years. This Administration will not deploy troops without just cause. But I am going to ask that all Americans contribute.
That means multimillionaire CEOs can find good paying jobs on their payrolls for soldiers returning home. If they risked their lives you can take home less pay.
Our high school and college students also must embrace responsibility to our community. Many of your neighbors are overseas shedding their blood for your freedom. You can help tutor the children of our soldiers, keep neighborhoods clean, and volunteer to help in veteran's hospitals or take care of the elderly. Citizenship in the United States is a privilege. Many died so you may enjoy that privilege and we all have to give something back. Service breeds better citizens. And better citizens lead more productive lives.
America has prospered and achieved when its citizens have come together for the greater good. Thirteen colonies banded together to overthrow the yoke of tyranny. Rich, poor, black and white came together to defeat the Nazis and save the world from evil. Blacks and whites marched together for civil rights. A half-century of national resolve prevailed in the Cold War against communism. An America with many more colors and creeds united after 9/11 and stood tall together.
The time has come for this generation of Americans to come together in one community for causes beyond conflict and struggle. Let us aspire to the greatness of a national community that provides opportunity for all and demands responsibility from everyone.
Two centuries ago our country ushered an age of Enlightenment and self-determination for the world. May our third century ignite a worldwide reformation of peace, shared responsibility and justice. We must be bold enough to lead, humble enough to listen and courageous enough to persevere. I have faith this generation of Americans will live up to its calling.
Thank you and may God bless the United States of America.