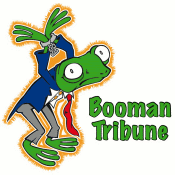 In my opinion, the most prolific and incisive blogger among the progressive netroots is Booman, the proprietor of
Booman Tribune
. Booman's analysis, wit and prose are far superior than Markos Moulistas of
Daily Kos
.
In a brief post
earlier today
, Booman unleashed his rhetorical wrath at the Clintons for push polling:
"I'm still waiting to read a story about Obama, or Edwards, or Dodd, or Biden, or Richardson, or Kucinich, or Gravel doing goddamn push-polling. I keep
reading about
the Clintons push-polling, but they seem to be the only ones on the Democratic side that do it. It's only one of many reasons the Clintons disgust me and I will never cast a vote ever again for either one of them for any office."
He's not alone. For what it's worth, I
likely
would vote for Senator Clinton if she's nominated because she'll have to appoint
some
progressives in her administration. But I'll be holding my nose at the vile stench.
I urge my fellow New Yorkers to vote for Senator Obama tomorrow. Hopefully, Senator Obama can achieve something resembling delegate parity in New York while prevailing in California. At stake is the Democratic Party's soul and an opportunity for our republic to end the pro-war corporatist plutocracy's reign of indecency.